The DISCO VET partnership held its first transnational project meeting on the 14 December 2020, virtually, using Adobe Connect.
Each partner introduced themselves and their institution – see Partners page to learn about thge collaborating organisations. We learnt each other's main expertise and range, as well as the service profile of each organisation. Team members also identified their role in the project team.
Participants have also shared their working conditions due to the pandemic situation in different countries.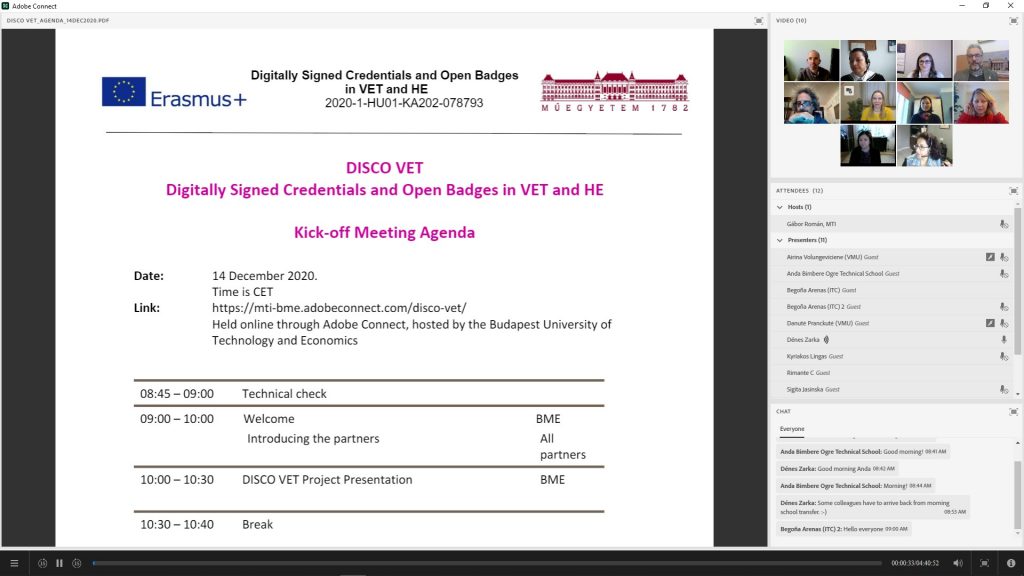 The first definitions of the project aims was discussed and agreed upon. It goes as follow:
The DISCO VET project aims to come up with a data structure of course and content typology based on current European and national standards and new research. The resulting grid of extra metadata enables a better mapping and manageability of their badges for VET, HE and CPD institutions.
Based on the grid, an open source displayer will be developed, accompanied by a 30 hours course on open badges and DSCs targeted to the issuers and validators to support the implementation of the displayer platform in their institutions.
The project objectives and milestones are the following:
Report: Skills and practices on open badges and digitally signed credentials in VET: partner countries and EU (IO1)
Grid of extra metadata as a base for development
Displayer platform (open source) (IO2)
User guide to DISCO platform use
30 hours multimedia course for issuers and validators on the use of the displayer platform (IO3)
Learning portal in Moodle
To train admin staff and lecturers/trainers on the use of the platform and open badges during a short-term staff training event. It is also the piloting
During piloting we use a Badge quality system to evaluate the quality of their newly created badges
Lessons Learned Kit (LLK): 3 publications to share the results. With multimedia elements (IO4)
Validation guidelines  (IO4)
12 multiplier events: last 6 are the validation workshops
Evaluation report on validation
Partners discussed the structure of the project and the relations of the different results and outputs.
The next meeting is planned for May 2021.